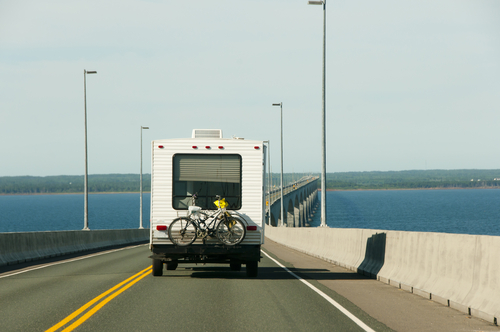 Spring is here! It's time to get behind the wheel and hit the open road!
But where to go?
You've got the world at your feet… or at your tires anyhow. Pick a direction, find a destination, and go explore with your RV or trailer.
In this installment of the Travel-Mor RV Travel Blog, we'll discover the magnificent Maritimes of Eastern Canada, taking in the charms and sites of Nova Scotia, New Brunswick and Prince Edward Island. All within comfortable reach of Ottawa, this is a trip that deserves at least a week of your time, preferably more to really do it right.
What's on the Way?
The nearest Maritime province to Ottawa is New Brunswick, which you'll cross into approximately 700km from the start of your journey. That's a fair amount of land to cover in the meanwhile, but it's not to say that there's nothing to see along the way. Both Montreal and Quebec City are en route. You might want to make a stop in one of those cities on one segment, and an overnight in the other direction. Quebec City is a beautiful city to explore – read more about it in our article here (which also discussed Montreal and other Quebec towns).
From the provincial boundary line of Quebec and New Brunswick, it's another 400km to coastal city of Saint John. On the way you'll drive through largely uninhabited, heavily wooded areas. If you've got your passport(s) and are current on all requirements, you can make a side trip into the state of Maine, which fronts a large stretch of the US-Canada border. Maine has a number of small, quaint towns and villages along its rugged coast. There are also possibilities to tie the Maritimes in with a trip to the New England states, circling back to/from Ottawa as a loop.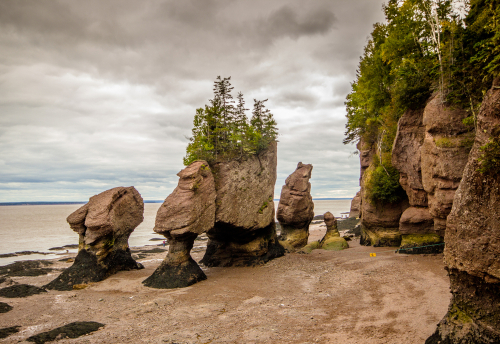 New Brunswick Highlights: Bay of Fundy, Hopewell Rocks, Reversing Falls
Home to the highest tides in the world, New Brunswick is worth a couple of solid days on your itinerary. Be sure to get the timing just right to see Hopewell Rocks, a natural rock formation that extends into the Bay of Fundy. When the tide is low, you can walk right out onto the ocean floor and see these magnificent structures (a.k.a. the "Flowerpot Rocks"). Check the tide tables on the park website and make it a point to arrive shortly before low tide. The park is open from mid-May into October, so plan accordingly. Elsewhere around the Fundy coast, you can explore rugged beauty, small towns and villages, with trails for hiking and biking enthusiasts alike.
The cities of New Brunswick are certainly worth exploring. Fredericton is the provincial capital, Moncton is closest to PEI, while Saint John sits idyllically on the coast. You're in the Maritimes, so why not take advantage of fresh seafood? Here you'll find restaurants of varying ambiance and style, each serving its own melange of lobster, oysters, scallops, several varieties of fish and much more. Try several and let us know which you liked best!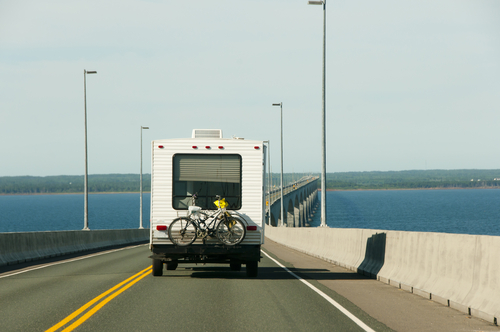 Prince Edward Island: Green Gables, Red Sand
Across the Confederation Bridge (doable by RV, trailer or camper) from New Brunswick is enchanting Prince Edward Island. PEI is home to famous red sand beaches, Canada's first capital, and, of course, Anne of Green Gables. For a small province (the nation's smallest, with a land mass of just over 5000 square kilometres (that's smaller than the Greater Toronto Area)   and a population of only 150,000 people (the equivalent of a small suburb in one of Canada's urban areas), PEI packs in a lot with great bang for the buck. It's a golfer's paradise, said to be the top links destination in Canada with over 25 golf courses on the island. Literary fans will most certainly want to visit the Green Gables Heritage Place, the setting for Lucy Maud Montgomery's iconic novel. Culinary aficionados can enjoy a down-home PEI supper at a local church or community centre, complete with lobster, mussels and many home-cooked dishes. And don't forget to visit Charlottetown, where it all began for Canada back in 1867. Although the Canada 150 celebrations are largely over, the spirit lives on, and this town is full of history, character and charm.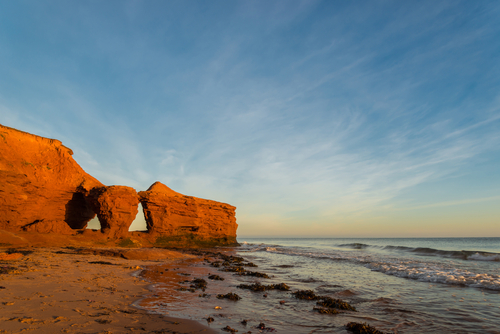 Nova Scotia:
The furthest point on your Maritime RV adventure, Nova Scotia is full of history, beauty, and down-home goodness. You might say that Halifax is your turnaround point. And you can stay in or near Halifax. But there's plenty to see beyond that as well, most especially Lunenburg and Peggy's Cove, historical villages with coastal scenery that's unrivalled across Canada. Halifax is the biggest city in the Maritimes but still retains the feeling of a smaller city, thanks to the genuine nature of its inhabitants. See the Maritime Museum, the Citadel, the Canadian Museum of Immigration, and much more. Dining is second-to-none here. Further north in Nova Scotia is Cape Breton and the Cabot Trail, history and beauty combined. You way just want to spend more than a day or two here, experiencing the relaxed, laid-back pace of life that this area is known for. It all makes for an ideal RV experience, one that you're unlikely ever to forget.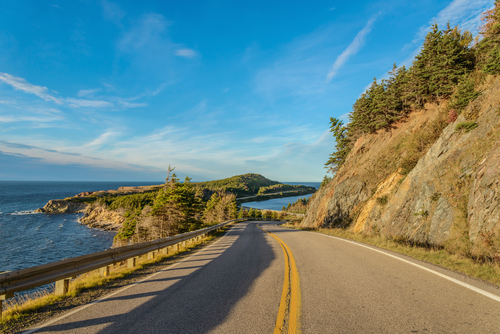 RV Rentals and Sales in Ottawa
Have more questions about RV road trips? Looking to buy or rent an RV, trailer or camper in Ottawa? Look no further, as you've come to the right place! Travel-Mor Trailer Sales has recreational vehicles of all sizes and styles for your land travel needs. Give us a call at 613.822.1666 or use our contact form to get started today. Our staff love to talk about RVs, and they'd be happy to find the right solution for your RV needs. We also provide parts and service for RVs in Ottawa.