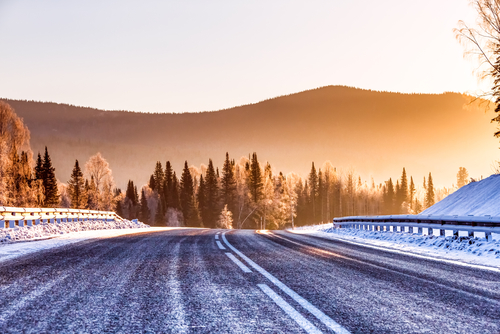 Is your RV sitting in the driveway, yearning to get out onto the winter roads? If you haven't put your RV into winter storage or otherwise 'closed' it up for the season, that probably means you had some winter trips in mind. How has your winter been so far? Is it time to hit the road? If so, read on – we've got some winter suggestions for you, most notably on how to stay warm and keep your recreational vehicle functioning properly and in good order.
Maintaining RVs in the Winter
First off, there's your RV itself. While these vehicles are certainly built tough, they do have their vulnerable points. Winter is definitely something that can attack an RV's weaknesses, so it's best to be vigilant. Consider the following strategies and recommendations to defend your RV from winter:
Use antifreeze in your plumbing and gray/black tanks… this is done by flushing antifreeze down the toilets and pouring it down the drains
The bay that holds your tanks must always be kept above freezing…. small space heaters are a handy and less costly solution for this, and they don't use much amperage
If you have a continuous water supply and you want your grey water to drain, then one option is to wrap the sewer pipe with additional insulation… you'll want to install heat tape around the PVC pipe… during winter it is easier to keep the tank closed and dump only when needed
When it comes to water supply, you can fill your tank when you need water … another option would be to purchase a heated water hose… you'll also need to insulate any connections and exposed piping… another way to go about this is to empty your fresh water tank and bring portable water bottles instead
When emptying your tank do not leave your hose out for extend periods of time because it will become brittle… avoid leaving your sewer open regularly as well… when dumping, get the hose out and open the sewer and once finished close the sewer and store your hose… if camping in one location for an extended period of time, consider using a PVC pipe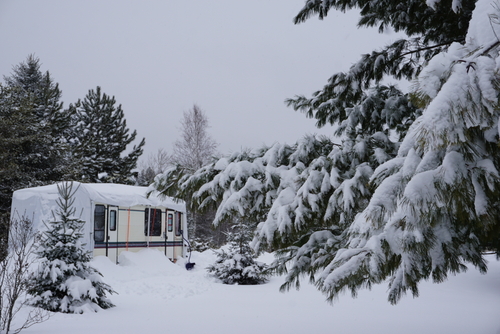 During extremely cold weather running a space heater under your trailer, inside the skirting to keep it warmer
If you don't want to travel with a skirt or would consider a less expensive option, you can use a shovel to pile snow around the base of the trailer… pack the snow in layers to create an igloo effect… it's still possible to a put space heater under the trailer (the snow shouldn't melt)
If you are traveling with an RV without insulated bays – or a travel trailer without insulated compartments – you may want to consider adding a skirt… do not cover exhaust vents on your propane furnace or your generator, as carbon monoxide from entering the trailer is dangerous and potentially lethal!!!
If traveling by motorhome, be sure to replace your windshield wiper fluid with anti-freeze
If you are camping with a travel trailer, replace wind shield wiper fluid with anti-freeze in your car/truck
Super important to remember to fill up your propane tank! You may want to consider bringing a spare… people tend to use more propane during the winter camping season than during the spring/summer/fall months
If you are traveling by Motorhome be sure to add a diesel fuel supplement to keep the fuel from freezing or becoming too thick
If you are camping with a travel trailer, make sure your car/truck has had the proper winter accommodations

Keeping Yourself (and Your Loved Ones) Warm, In the RV and Outside
Winter doesn't have to be something that's best avoided. As Canadians, we're a hearty lot, and we know how to enjoy our wonderful surroundings 365 days year-round. Still, it's important to keep in mind some common-sense ideas, as well as some you may not have considered, so that you can stay warm whilst enjoying your winter RV adventures.
Camping during the winter can cause condensation on the windows and walls, etc… when this occurs open a window/vent, turning a fan on or using a dehumidifier… condensation build up can cause mold long term anything above 40% relative humidity may cause issues down the road
Make sure you've got plenty of warm blankets and extra bedding such as a down comforter or an electric blanket
Taking showers at camping facilities will lessen the number of times you have to empty and fill your tank, and also decreases humidity inside the trailer.
If you find that your stored items are starting to freeze up, you can open your trailer's cabinet doors; especially for cabinets containing plumbing, this will let warm air circulate around the RV or trailer
The entry door and the stairwell are locations where the wind and cold get in; adding additional insulation will help to keep the trailer warm… you can make this happen by installing snaps/Velcro around the doors to add an extra layer of heavy fabric or use bubble wrap, the bubble insulation, or the R-Max Foam boards which are all practical
Use an electric heater to warm the inside of the RV rather than running the propane furnace; this will eliminate humidity it will also be more cost effective… set the propane at a lower warm temperature just in case the temperature drops too low, and it will kick in
Close all your blinds/ shades at night to serve as an extra barrier between the inside of the trailer and the cold outdoors. An alternative option is to use a blanket or heavy fabric and adhere it to the inside of the window
For the winter vent covers might be a purchase to consider. It makes it so that even if snow is piled on the roof the vent can still be opened to allow out condensation

Winter Shopping List
Now that you've got some good ideas for winter RV measures, here's a list of items you may need to go out and buy – unless you have them already – and make sure you bring it all with:
RV Tire Chains, or Winter Tires
Jack Pads – this will keep the jacks from freezing to the ground
Ice Scraper or Brush
Salt or De-Icing Fluid
Snow Shovel
Warm clothing – you've probably got lots, but make sure you take items such as insulated socks and/or warm slippers
Travel-Mor is your Source for Everything RV
Looking for a new RV for 2018? Need a rental for a winter trip? Got questions or just want to chat about motorhomes or trailers? We're here and ready, always happy to talk RV's! Get in touch with us today.