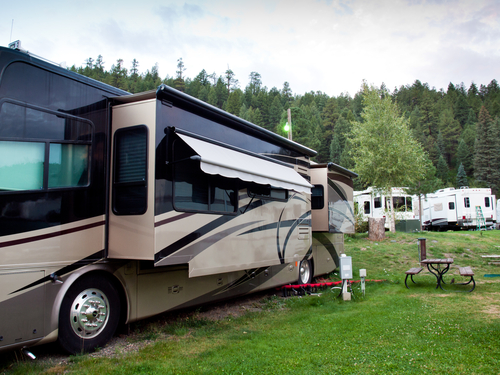 Are you in the market for an RV?
With temperatures warming up, options for enjoying your leisure time are widening. Spring and summer are indeed the time to get out there and enjoy our surroundings! For many of us, there's no better way to enjoy the warmer months than traveling with an RV or trailer.
If you're looking to buy a new or used RV or trailer, we've got some tips to help you in the process. Now's a great time to sit down, write up a list, weigh your options, and jump into the market – the smart way!
What kind of RVing will you be doing?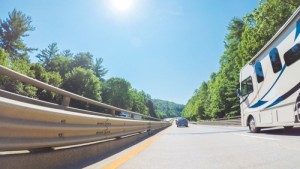 What kind of travel do you like to do?
Are you a hardcore road enthusiast, down for longhaul trips for a week or more at a crack? Or do you prefer the occasional camping weekend or even overnight?
Do you tend to be a "minimalist," taking only the bare essentials with you? Or is your philosophy to recreate a "home away from home?"
These approaches and attitudes will help determine what kind of RV, trailer, camper van or motorhome you'll want to purchase. There are plenty of other factors to consider as well, of course, and we'll get to those in a little bit.
In a nutshell, it comes down to one basic question: "How much RV do you want?"
The range of RV sizes
Recreational vehicles and trailers run the full gamut, from pop-up trailers to full-size motorhomes. They come in all shapes, sizes and colours. And you can spend anywhere from a few grand on the very low (used and small) end, up to well into the six-figures depending on size and customization.
Class A Motorhomes
These are the big daddies (and mommas) of the RV world! Think captain's chairs in the cockpit, full kitchens, bigger bedrooms and bathrooms… the works. Class A motorhomes have multiple slide-outs (those spaces that – you guessed it – slide out when the RV is parked, giving more room to the interior when not being driven), sometimes as many as five. And they've got plenty of storage throughout the RV, giving you the option of going on trips for weeks or even months at a time.
Class B & C Motorhomes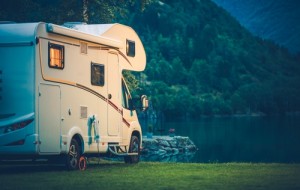 Class B are the "camper vans," with some of the amenities of Class A, albeit in a more compact package. Smaller kitchen, smaller bathroom, less storage, etc. Class C is actually a hybrid of Classes A and B… smaller than the full-size motorhomes but with more amenities and space than a camper van.
Travel Trailers
Travel trailers are great in that they can be towed by full-size pickup trucks and SUVs. They are lighter in weight (thus more fuel efficient) but still sturdy in construction. Still featuring many of the amenities as motorhomes, such as kitchens and generators, travel trailers can sleep up to six people. Another plus is that you can unhook the trailer at a campsite, then take your truck or SUV on its own to explore the area!
Fifth Wheel Trailers & Pop-Up Trailers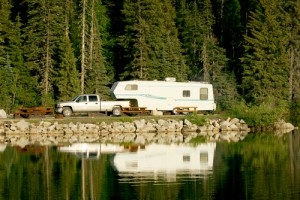 Fifth-wheel trailers mount onto the back of a truck, adding stability. They are comparable in size and amenities to travel trailers. Pop-up trailers a smaller, and are often a good entry-point for those arriving onto the RV & trailer scene.
Decide what your budget is – realistically – both for purchase and for continued use
When discussing budgets for an RV, trailer or motorhome, we would be remiss if we didn't the entirety of the expenses you'll incur when owning and operating a recreational vehicle. Of course, the biggest item is the price on the sticker. Here are just some of the other cost factors you'll wish to consider:
Fuel (gas and propane)
Insurance
Registration
Maintenance & repairs
Health insurance (if crossing the border)
Parking & camping fees
Meals and supplies
Mobile data & phone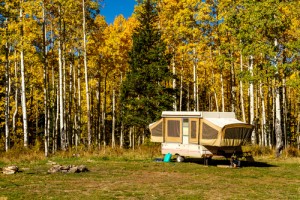 Buying an RV is not a casual purchase. It's worth putting in plenty of thought. Of course, it's also like buying a home in many ways, and that leads some people to let emotions get the best of them. Before embarking on the journey of "kicking tires," we recommend that you have all your ducks in a row with regard to budget.
Then go looking. Soon enough, you'll find the RV that strikes your heart's desire. Remember that this is a purchase that should provide you with several years of traveling pleasure, so take your time and make sure this ticks off enough of the items on your list.
Still not 100% sure about buying? Why not rent?!
Rentals are a great way to dip your toes in the water, getting a feel for what the whole RV and trailer world is all about. At Travel-Mor, we offer rentals for different sizes and durations.
Travel-Mor is your Ottawa RV & Trailer source!
If you're in Ottawa or anywhere around the National Capital Region, we'd love to talk RVs with you! Give us a call or fill out the contact form on our website, and we can get the ball rolling on your next (or first!) RV or trailer adventure. Our friendly and knowledgeable staff are eager to answer any questions that you might have, helping you get more educated and informed before making that purchase or rental.