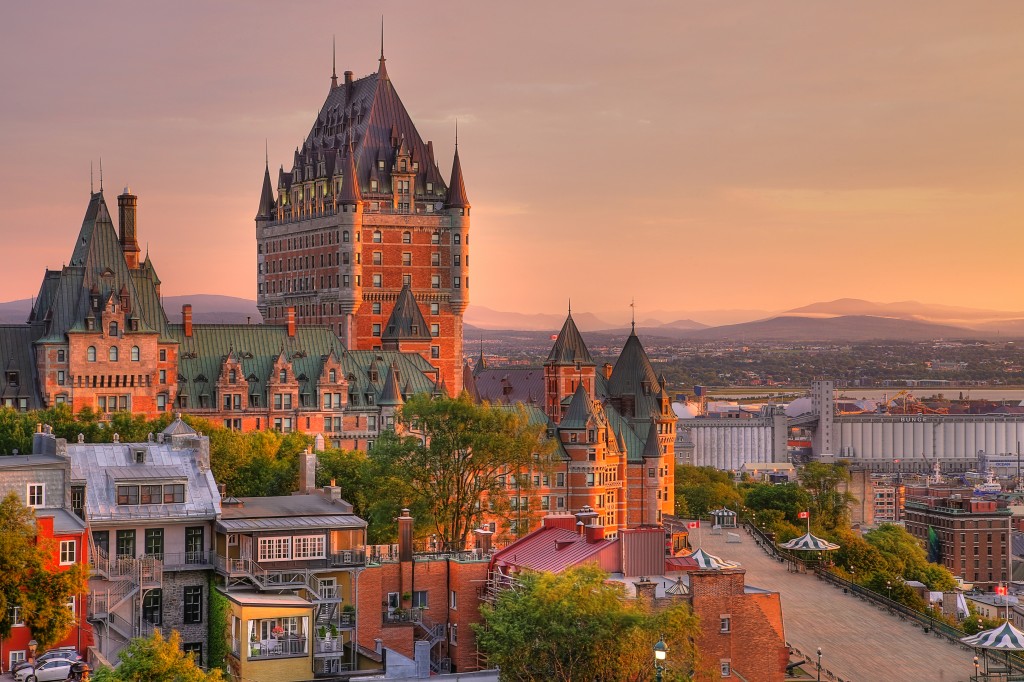 Quebec is a proud part of Canada, but few are aware of how much like another nation it truly is. Its heritage stretches down a different historical path than that of the rest of the nation; an experience that can be seen, heard, and felt throughout it's major cities and small towns. Combining world-class natural beauty with a unique and colorful culture, consider the possibilities a trip through Quebec holds for you and your family with Travel-Mor.
Colorful, Diverse City Experiences
Quebec's two most prominent cities, Montreal and Quebec city, are undeniably different experiences, but also share a uniquely 'Quebec' character.
Montreal
Montreal is a Mecca of Canadian culture. Home to prominent Canadian cultural institutions like Just for Laughs; attractions like the Biodome, Insectarium, Botanical Garden, and Planetarium; there is simply no shortage of things to do while in the city.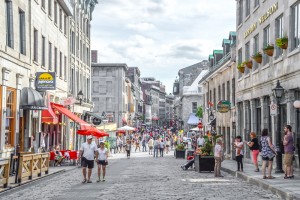 Whether it's drinks on the town for you and your friends, or days in the city for you and your family, there is no end to the possibilities Montreal can offer you on your trip through Quebec. A must-visit for anyone exploring the province, make sure you stop by on your trailer or RV trip through the province!
Quebec City
If Montreal is the cultural heart of Quebec, then Quebec city is the historical one.
Home to Old Quebec, exploring this city is exploring the past of our great nation. The only fully-walled city north of Mexico, Old Quebec is a UNESCO World Heritage Site offering travelers an experience that cannot be offered anywhere else in North America. Built during a time when a city siege was a real possibility, you can walk the battlements of Old Quebec and stumble across real cannons meant to defend against incoming ships!
Inside Old Quebec, you'll find the some of the best food and drink Canada can offer. A trip through time; you'll find the most contemporary restaurants in buildings that have stood for centuries; all coming together to provide an experience you can't find anywhere else.
Beautiful Towns, Hamlets, and Villages
Once you've had your fill of Quebec's bigger cities, take a trip down to it's smaller towns and villages for a provincial experience of Canada's european heritage.
Tadoussac
Three hours up the St. Lawrence from Quebec City lies Tadoussac.
Offering incredible natural experience, a rich cultural heritage, and plenty of events year-round; Taddoussac is a must-visit for anyone looking to get the most out of a trip through Quebec.
Offering numerous whale-watching cruises, Tadoussac offers the possibility of a close-up experience with some of Canada's most majestic – and mysterious – wildlife. Dolphin's, Humbacks, Orcas, and even the great Blue Whale are not uncommon sights in the St. Lawrence. A powerful, once-in-a-lifetime experience, the opportunity to see some of the largest animals to have ever lived; up-close and in their element, is not to be missed.
Stanstead
The tiny town of Stanstead, Quebec is home to the Bleu Lavande Lavender field. Home to the Bleu Lavande brand of wellness products, Stanstead offers not only tours of these incredible fields, but yoga, massotherapy, and meditation classes; as well as food tasting and picnics! A characteristically unique, romantic experience, Stanstead has much to offer if you're headed through Quebec!
Port-Au-Persil
If you're seeking an escape from buzz and business, your centre for serenity is only a short drive north-east from Quebec city, to a small place called Port-Au-Persil in the city of Saint-Siméon.
A small town edging onto the famous St.Lawrence river, this little secret is home to incredible riverside views, as well as some of the tastiest cider on earth! In the morning, you can enjoy the spellbinding sunrise, and at night, head down to Cidrerie-Port-Au-Persil to drink in a flavour as golden and beautiful as the sunset!
World-Class Natural Experiences
When it comes to the powerful experiences of nature Quebec offers, Tadoussac's whale-watching is only the beginning. A quick drive in any direction from Montreal or Quebec city is guaranteed to provide incredible opportunities to surround oneself in nature.
Hiking, Camping, and Wilderness Exploration
Gatineau Park
One of the first natural treasures you're likely to encounter on a trip through Quebec is Gatineau park. A 10 minute drive from Ottawa, this enormous park draws hikers and outdoors enthusiasts from around the world. A shining example of the best that the Canadian shield has to offer in terms of flora and fauna, Gatineau park provides a wide range of accommodations for RV or Trailer travelers looking to experience a taste of the best that Canada's wilderness has to offer.
Camping Quebec
If you're taking an RV or Trailer through Quebec, then you ought to consider using Camping Quebec as an invaluable resource to find accommodations for your adventure-mobile. A comprehensive listing of almost every campground in the province, this tool will help you find a place to camp anywhere you're going. With comprehensive availability, pricing, and contact information, Camping Quebec is an easy-to-use directory that will help make your adventure a breeze!
La Maurice National Park
Full of beautiful lakes, forest, and wildlife; La Maurice is one of three national parks in Quebec. Located in-between Montreal and Quebec City, this park is an ideal stop between big-city experiences for those that love to enjoy the outdoors.
A world-attraction for those that love to camp, hike, hunt, and fish; La Maurice is heaven for the outdoor enthusiast. Home to over 150 lakes, consider taking a shower (with outdoor-safe soap of course) in the Shewenegan, Waber, or Wapizagonke waterfalls. Wake up to the sound of loons, fall asleep to the hoot of owls, and allow your mind to find it's centre while surrounded with the sacred beauty emnating from Canada's wild spaces.
Begin Your Adventure With Travel-Mor
Interested in exploring the possibility of a trip through Quebec, but you don't have an RV or Trailer? Travel-Mor can connect you with the trailer or RV right for you, at the price that meets your needs. With options available to rent or buy, all it takes to access the adventure-mobile you need to explore all that Quebec has to offer is to get in touch.