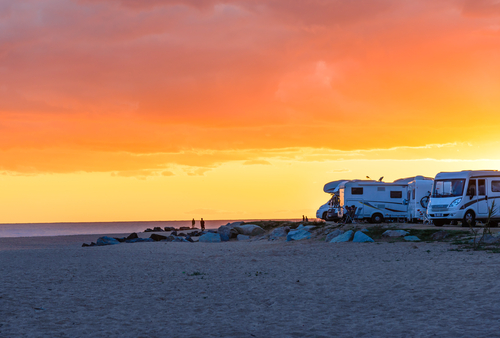 Are you a snowbird? Do you aspire to be one? Have you ever thought about taking an RV journey from Ottawa down south?
Every year, thousands of Canadians head south to warmer climates, most notably to US southern states like Florida, Texas and Arizona. Some fly, and then drive a local vehicle once at destination. Other folks drive down, and then have use of their own car while enjoying a warm, sunny winter.
But what about making the journey in an RV? It's a great way to experience the USA, and once you get to where you'll spend the winter (or portions thereof), you'll have your RV to use for local trips and longer explorations in those sunny climes. You won't have to get hotel rooms along the way, and you can even use your RV instead of renting a condo at destination. Read on to discover some of the many places you can see both on the journey down south and back, and a few spots you may want to consider spending time at in those sunny, southern spots.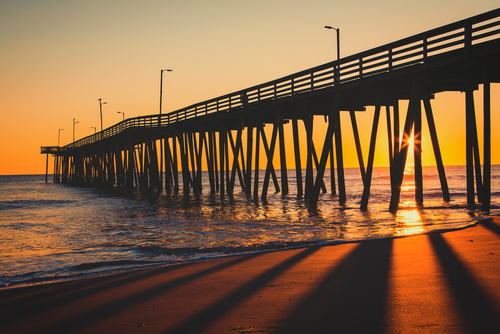 Virginia Beach, Virginia
Depending on your driving route in your RV from Ottawa, Virginia Beach could be the first coastal stop on your journey south. While not a "warm" destination in the winter months, Virginia Beach is a worthwhile waypoint. Along the way, you could stop at Norfolk (home to the world's largest naval base), Washington D.C., or Colonial Williamsburg. There's good fishing in this area, plenty of dining options, outdoor activities and watersports, and ample history to boot.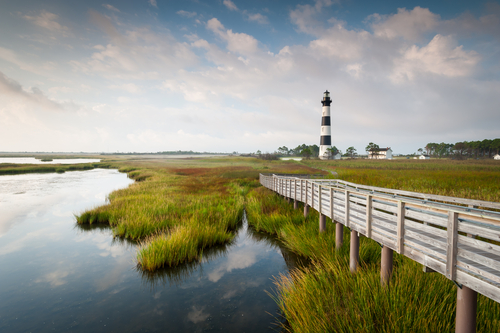 Outer Banks, North Carolina
Driving south, you're probably starting to warm up. The Outer Banks of North Carolina are a more tranquil version of the Atlantic coast than you might see in some of the other destinations listed here. Uncrowded beaches that stretch for miles bring the endless possibilities that come with them. This is America's First Beach. The site of the first National Seashore and the place where the English first tried to settle in the New World. National and state parks share those stories and more. You'll find hospitable people in the towns and villages of the Outer Banks, with plenty of restaurant and shopping choices. You won't find a lot of big box stores or chain restaurants in these parts, so that means a great opportunity to try something new. But hey, this is the land of firsts (did we mention the Wright Brothers?!).
Myrtle Beach, South Carolina
Myrtle Beach, a 60-mile string of beaches, has been named one of South Carolina's most popular snowbird locations. Want beaches? It's named after a beach, so there's plenty of that. But there's so much more. Go for a Carolina Safari Jeep Tour, ride one of the largest ferris wheels in the USA, zip-line through the trees, or visit one of the many local wineries. The Myrtle Beach KOA Campground or the Briarcliffe RV Resort both offer first class accommodations.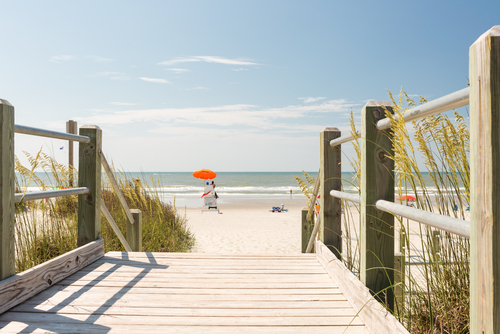 Hilton Head, South Carolina
Home to 12 miles of white sand beaches, watersports galore, miles of public paths ideal for bike riding, magnificent forest preserves, world-class dining and shopping choices, dozens of golf courses, Hilton Head is a year-round paradise. This boot-shaped island along the southern tip of the South Carolina coast has ample RV options, and options for day trips or extensions to Beaufort, Savannah, and Tybee Island.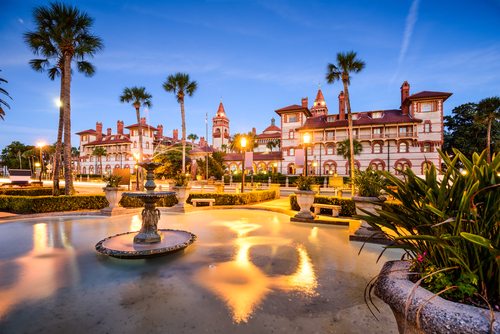 St Augustine, Florida
One of the oldest cities in North America, St. Augustine. If you're looking for history, culture and a few days of enchantment, visiting St. Augustine is a must. North Florida boasts a year-round mild climate perfect for strolling St. Augustine's delightful historic district, with its cobblestone streets, quaint cafes, bars, unique shops, and bed and breakfast inns. Experience the beauty of an early morning that slowly comes alive with locals and tourists setting out on foot to explore historic landmarks.
From St. Augustine, you'll encounter Daytona Beach, and then have options to continue southward along the Atlantic Coast (Cape Canaveral, Vero Beach, Palm Beach, Fort Lauderdale and Miami); or venture inland to Orlando, then across to the Gulf Coast where Tampa Bay awaits.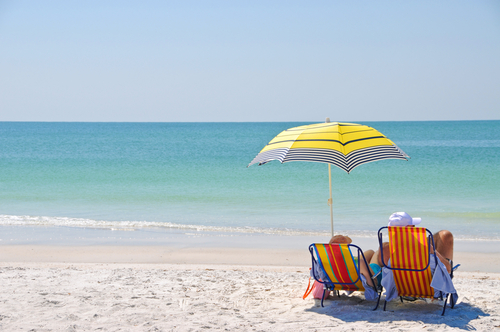 Venice, Florida
South of Tampa and Sarasota, Venice is the shark tooth capital of the world – Literally! Venice hosts an annual "Shark Tooth Festival," to celebrate the numerous fossilized shark teeth found on its beaches. Venice is also known for its quaint small-town feel, beautiful shorelines, white sand beaches, stellar golf courses and many types of boating experiences. The city is also known for its walkability, with boulevards such as Venice Avenue, an Italian style street with renaissance buildings and European style shops. Check out Palm and Pines RV Park or the Royal Coachman RV Resort located just minutes outside from this stunning city. Venice is a great place to stop for a day – or two or three – or to set up camp for an extended stay. You'll find that the weather at this latitude is generally sunny and comfortably warm throughout the winter.
Further South from Venice are the Gulf Coast greats of Fort Myers, Sanibel, Naples and Marco Island. Home to some of the finest beaches in North America, this is a prime destination in the winter months. You'll want to book ahead well in advance to get the better located RV sites. From this area you can also explore the Everglades, just inland. Then it's a short drive across the southern portion of the state to Ft. Lauderdale and Miami.
The Florida Keys
As you leave Miami, the big cities of Florida fade in your rearview mirror, and life begins to take on a different pace. Welcome to the Florida Keys. From Key Largo to Key West, this is a unique archipelago full of history and character, and surrounded by turquoise waters. Indeed, the Keys are becoming more and more popular for seasonal RVers. RV Parks such as the Sunshine Key RV Resort and Marina or the Fiesta Key RV Resort offer the RV adventurer access to a full tropical island experience. Spend time doing all sorts of ocean activities in the incredible Gulf of Mexico or relax from sunrise to sunset on the many accessible beaches. Resorts offer full amenities, beach bars, on site fishing marinas and many more activities to enjoy for weeks or months on end.
RV Journeys from Ottawa begin with Travel-Mor
Snowbirds (and aspiring snowbirds) have a wealth of RV options to get south and back. If you'd like to talk about how we can help you explore it, we're only a call or message away!