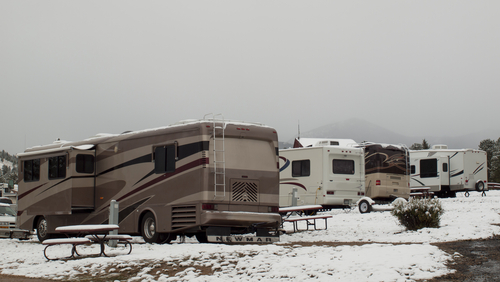 Is your recreational vehicle in storage for the winter already? If so, great, you're all set to enjoy the months ahead in Ottawa and/or travelling elsewhere (refer back to our previous article for some ideas on that subject). If you've still got the RV in the driveway or otherwise parked in a handy place – or maybe you're reading this whilst in the comfort and freedom of your RV (cheers!) – we've got some ideas on where you can go and what you can do to enjoy the winter RV'ing.
Tips for Warm, Safe and Fun RV'ing This Winter
Before setting out on the road, you'll want to ensure that you stay safe and warm. That means taking some steps for your vehicle, and other actions for you and your family.

Clearing Snow & Ice from Your RV
First things first: is your RV currently free of snow and ice? If not, you'll definitely need to get this taken care of prior to starting your journey. Why is this important? For starters, the weight of the snow and ice on the roof, sides and tires can make driving your RV a drag, literally. It can also contribute to a breakdown or cave-in due to excessive weight. Another factor is that the snow on your roof will blow off as you drive down the road, possibly blinding the driver(s) behind you. This is dangerous, to be sure, and is also illegal in many places. You can wait until close to when you're ready to hit the road, or, if you've got a little time now, you can get out ahead of things by clearing the snow and ice (you're better off keeping on top of it, lessening the burden that could be awaiting you later). You can also use the sun to melt the snow and ice – and keep it off. Where possible, park the RV in the sun, or what there is of the sun in wintertime, anyhow. This goes for parking at home as well as when you're on your journeys. Also, be sure to keep your battery charged by starting the RV regularly. These days there are solar panels available for RVs, to build an energy reserve that you can call upon when needed.
Keeping Yourself and Your Family Warm
Okay, now that the RV is ready to roll, your next priority is to ensure you and your family are safe and warm. When it comes to clothing and gear, it's always better err on the side caution. Bundle up, wear layers, and make sure you've got plenty of warm clothes along with you. This way you can always change socks, pants, gloves, hats, etc. when they get wet from the snow and ice. A second coat isn't a bad idea, as are a spare pair of boots. And, again, also you'll want to have ample bedding – blankets, quilts, sleeping bags and other items to stay warm while you sleep. An electric blanket can help as well. Hot beverages are a great way to stay warm, too: coffee, tea, hot chocolate… be sure you've got a kettle, French press, Keurig or other warming devices.

Don't Forget Your Winter Gear!
What's your favourite way to enjoy the winter? Skiing? Snowshoeing? Hiking? Whatever it is, ensure that you've got all the gear that goes along with those winter hobbies! Skis, snowboards, snowshoes, hiking poles, and more.
Where to Go This Winter
Now that you've got safety and warmth covered, the choice is yours. Where would you like to go? The only limitations are pavement… and maybe a little bit of physics. From Ottawa, you've got options in all four directions. Weather permitting, of course. Check the forecast before you head out, not only for the immediate hours but the days you plan to be away. Even so, you never know when winter weather can develop, so refer to the above section on preparedness to make sure you're well equipped.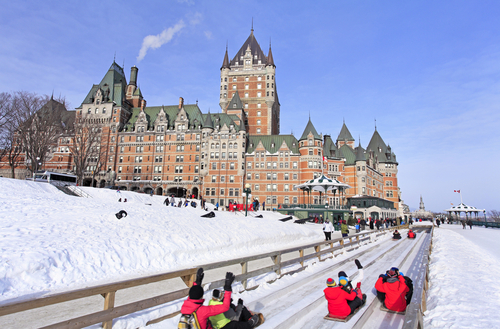 Ski Destinations and Winter Fun
Within hours of Ottawa, you've got an array of top-notch ski destinations. The best spots tend to be in Quebec, as well as in the states of New York and Vermont.
Quebec Skiing… and Quebec City
Mt. Tremblant is perhaps the best-known ski area, and rightfully so. Its slopes are among the best and most challenging in this half of the continent, and the Tremblant nightlife is legendary in its après-ski fame. Down the road from Tremblant, Saint-Sauveur is a charming town with history and dining options, while the nearby skiing is worthy in its own right. Further afield in Quebec, good skiing can be found at Mont Orford, Le Massif, Ste. Simeon, and Mont Ste-Anne. The last three are in the vicinity of Quebec City, which is a prime travel destination year-round. Winter brings the Winter Carnival, a festive time for families and people of all ages to enjoy. For more on Quebec City, see our previous article on this fabulous destination just five hours' drive from Ottawa.

Cross the Border to Lake Placid & the Adirondacks… or Further to New England
Just a few hours from Ottawa is Lake Placid, site of the 1980 Winter Olympics (so you know the skiing is good!). Downhill and cross-country options abound here, in a natural setting that draws visitors from near and far. If you're up for more driving, and the weather cooperates, check out Vermont and New Hampshire, where small towns and ski slopes give a unique experience for the visitor who braves the winter. We've got an article about New York & New England as well, so check that out while you're doing the planning.
Other Winter Destinations in the Region
The Greater Toronto Area is always a fun destination. Toronto itself has endless entertainment, dining and cultural options. Nearby is Niagara Falls, which looks completely different in the winter. Go when it's cold enough and you can see the frozen falls, an amazing sight! Algonquin Park has several winter options, as do many of Ontario's Provincial Parks. Check with the parks website when planning and before heading out, to see what's open and available.

Got Questions? Want to Rent or Buy an RV? Talk to Travel-Mor!
Travel-Mor Trailer Sales is THE source for RVs in Ottawa. Get in touch with us, and we'd be happy to answer any questions you may have about RVs in general, storage for RVs, winterization, rentals, or RV sales.