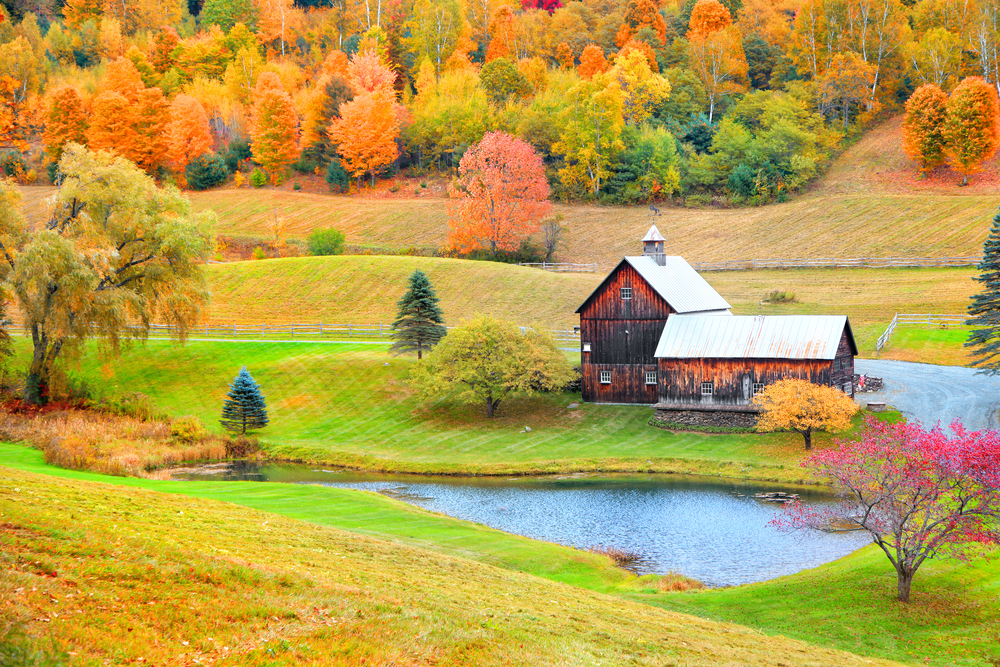 With autumn making its entrance, your options for colourful RV journeys from Ottawa are greatly expanded.
Last month, we talked about great destinations in Central and Eastern Ontario. All of those are ideal for fall colours and scenery. Here we'll give you some more ideas, all of which are south of the US-Canada border. Depending on when you're going, the colours may vary from region to region (see below), so take note accordingly.
When and Where to Go?
Fall foliage is a funny beast. Sometimes its magnificent colour stays with us for seemingly weeks on end, shifting gradually. In other years, the changes occur rapidly, almost on a daily basis. If you've got a flexible schedule, keep an eye on the weather forecasts and foliage reports, and choose your destination close to departure date to ensure the best colours possible.
For Ontario journeys, start by looking at the foliage report from Ontario Parks. This will give you an idea of the colour progression not only in the parks themselves but in the surrounding areas. Note that updates are not necessarily posted daily or consistently for each park, so it's worth looking on a regular basis to check for updates.
Similar foliage sites are available for Ontario and Quebec in general. The Weather Network usually has good reporting on fall foliage as well.
Of course, some of the more popular parks and regions get pretty busy this time of year, so you'll want to call ahead or book online in advance. At the same time, if you're monitoring fall colours, there's a need for some flexibility as well. Tricky balance, isn't it?

Going South of the Border
If you're up for an RV journey to the States, you'll have expanded options when it comes to fall colours. After all, as we progress through the autumn days and weeks, colour begins to dissipate in northern latitudes, while it starts to reach its peak the further south you go.
This Fall Foliage Prediction Map tracks fall colour reports across the United States. We'll focus on areas of the US that you can reach within easy or reasonable RV journeys, most notably the Northeastern states.
We can't emphasize this part enough: Be sure to have your passports (all valid and with at least six months validity remaining), and ensure that you meet all US entry requirements. The last thing you'd want after making all these plans is to be turned away at the border. Also you can find border wait times for the US and Canadian sides, and determine where and when you'll cross.

Lake Placid, Whiteface and Northern New York State
One of the closest destinations on the US side is Lake Placid, NY. Nestled in the Adirondacks, Lake Placid was home to the 1980 Winter Olympic Games and is a year-round destination known for its sport and scenery. It's about a three-hour drive from Ottawa, and can easily be done as a weekend or an add-on to other areas of the Northeastern US, Ontario and/or Quebec.
The Lake Placid and Whiteface areas offer hundreds of miles of lakes, ponds, and rivers ready for exploring. These waters are great for flatwater paddling, SUPs, motorboats, whitewater rafting, and fishing, including the famed fly-fishing mecca that is the West Branch of the Ausable River. There are hundreds of hiking trails with options for all abilities, from family friendly trails such as Cobble Hill to challenging hikes of the Adirondacks' 46 High Peaks. Drive past the Cascade Lakes and you will see that rock climbing is another great Adirondack pastime, and our mountains provide a range of rugged cliffs beckoning to be climbed.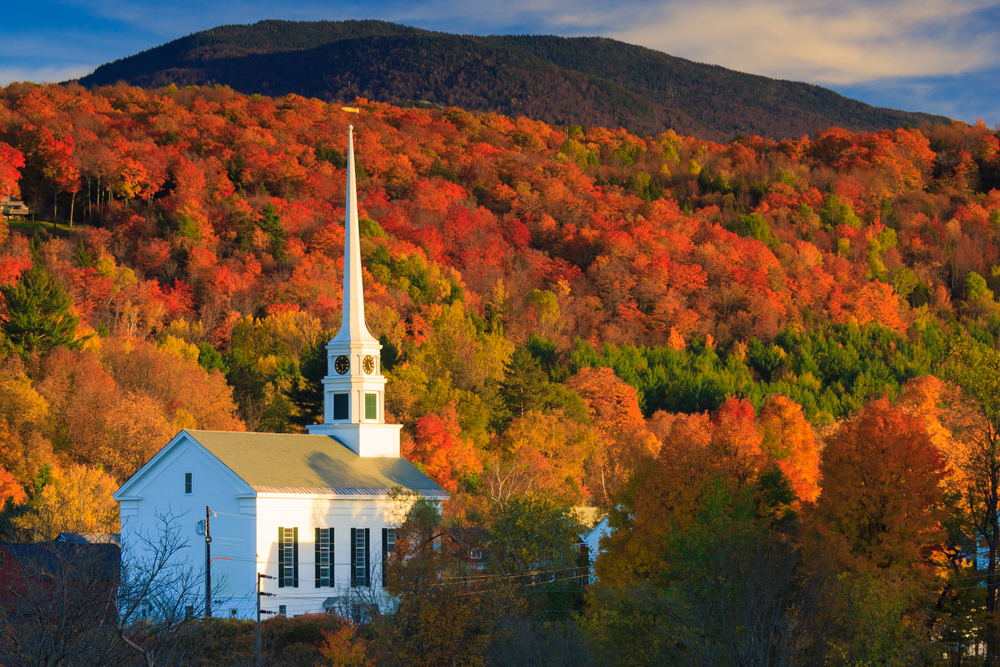 New England: Vermont, New Hampshire, Maine and Massachusetts
When you think of fall, you might think of New England. And when you think of New England, you very likely picture fall at its finest: colourful forests and leafy hills and mountains; charming small towns and villages where shopping, dining and bed-and-breakfasts abound.
The closest point in New England is Vermont, not too far from Lake Placid, bordering on New York State (to the west) and Quebec (to the north). Vermont is one of the more rural states in the US, and as such offers quite a lot in the way of fall colour and quaint charm. Burlington is the largest city in Vermont and home to its state university, but still retains more of a smaller-city feel. It is also the closest US city to Montreal at less than two hours' drive. Within short drives from Burlington are picturesque hills and valleys, bucolic farms, winding roads, and small-town experiences such as apple orchards (mmm, apple cider donuts!) and cheese shops. Other towns in the area include Montpelier (the state capital), Stowe, Waterbury (home of Ben & Jerry's, so be sure to stop for a tour and some ice cream!), Middlebury, Barre, Woodstock, and so many more. Consult the Vermont tourism site for more information.
Adjacent to Vermont on its east is New Hampshire. While sometimes seen as the slightly crusty neighbor, New Hampshire has plenty of charm and colour. Bordering Quebec on the north, Massachusetts to the south (indeed there are Boston suburbs and exurbs in New Hampshire), New Hampshire has a tiny slice of Atlantic coast to boot. Perhaps its most scenic drive is the Kancamagus Highway (pictured below), known affectionately to locals as "The Kanc." It does get crowded in the fall, especially on weekends, so you won't exactly be alone if you go. But that's with good reason. The scenery is amazing on this drive through the White Mountains. And if shopping is on your itinerary, the town of North Conway is near the eastern end of the Kanc, home to many outlet stores. Other areas of note in NH include Mount Washington, Dartmouth (Hanover/Lebanon), Concord, Manchester, Portsmouth and the coast. Be sure to partake in lobster and clam chowder while you're here.
For more information on fall foliage in New England, a gentleman named Jeff Folger (a.k.a. "Jeff Foliage") runs a site and Facebook page/forum devoted to this subject, complete with real-times updates and information shared by many locals and visitors alike.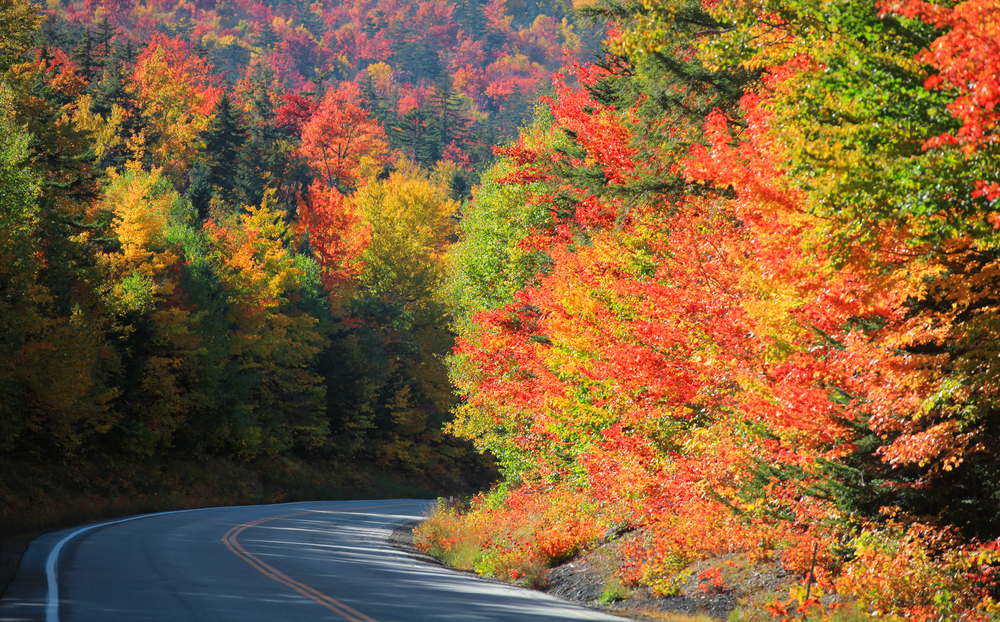 Travel-More Trailer Sales & Rentals Can Get You There
An RV or trailer is one of the best ways to enjoy fall colours on a journey through Canada and the US.
Whether you're looking for information on a new RV or Trailer, have maintenance or equipment concerns for the one you own, or would like to explore the possibility of renting; Travel-Mor is here to help. We want to be your partner in creating memories that last a lifetime.